A Defining Moment for 3 Brands: New Voices $150,000 POWER PITCH 2023
New Voices created defining moments for many Black women-owned businesses at Essence Festival of Culture™ 2023, presented by Coca-Cola through its entrepreneurial educational opportunities, including  Learning Lab™ LIVE sessions, panels, pop-up shops in the New Voices Village, and the SOKO MRKT retail space in the convention center. One of the centerpieces of this effort was the New Voices $150,000 POWER PITCH sponsored by Entergy. 
On July 2nd, the founders of Swella, CPR Wrap, and LUNA MAGIC approached the stage at Essence Festival to pitch for the opportunity to win prizes ranging from $25,000 to $75,000 as well as mentorship and coaching to grow and scale their businesses. The judges for the pitch competition were Beatrice Dixon, Co-founder and CEO, The Honey Pot Co; Darryl Thompson, Chief Investment Officer, New Voices Fund; and, Rod West, Group President of Utility Operations, Entergy.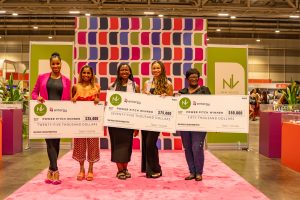 The Winners
$75,000 Winner: Brooke Hill, Founder & CEO, Swella – a modern luxury braid bar that uses technology to deliver a premium salon experience to people with textured hair.
$50,000 Winner: Felicia Jackson, Founder & CEO, CPR Wrap – a revolutionary user-friendly resuscitation tool designed to simplify and enhance the effectiveness of CPR (Cardiopulmonary Resuscitation). This innovative product provides step-by-step instructions and visual guides to assist individuals, both trained and untrained, in performing proper chest compressions and rescue breaths during emergencies. 
$25,000 Winner: Mabel & Shaira Frias, Co-founders, LUNA MAGIC – a fast-growing indie beauty & lifestyle brand founded by sisters Mabel and Shaira Frías. By combining their passions for beauty and lifestyle, The Frías Sisters have created a vibrant brand that celebrates their mutual love for their multicultural heritage, culture, and music—in living color.
We recently sat down with these impressive founders to find out how this experience at Essence Festival of Culture has and is anticipated to impact them and their businesses further.
The Atmosphere
What was it like to compete at the Essence Festival of Culture? 
Brooke: "The feedback in real-time as I stood on that stage and shared my vision of Swella and my ambitions to create experiences that finally place Black Women's needs front and center. I always pitch the concept of Swella, but this hit differently at Essence Festival. The fact that when I spoke for the first time, I felt immediately heard. It was truly a special moment to pitch a solution to a shared challenge that more than 80% of the room had experienced. They couldn't just hear the vision; they could imagine its magnitude, which was the best part!"
Felicia: "Essence Festival of Culture was an incredible and unforgettable experience for CPR Wrap. The festival's vibrant atmosphere, rich cultural celebration, and the opportunity to showcase our product in such a dynamic setting made it truly special. One of the best parts of the experience was the chance to connect with a diverse audience who were not only interested in entrepreneurship but also deeply passionate about making a positive impact in their communities. Engaging with attendees who shared our vision and understood the importance of accessible CPR interventions was inspiring and reaffirmed the significance of our mission."
Mabel & Shaira: "Competing at the Essence Festival of Culture felt more like a family reunion rather than a competition. All the contestants wanted to see each other win! Words of encouragement and reassurance were exchanged backstage, which empowered each contestant to confidently hit the stage and pitch in front of the judges. We also walked away with valuable insights and feedback from the judges, which we will use for future pitch opportunities and in our business as we continue to scale."
The Significance
What does winning the New Voices $150,000 POWER PITCH mean to you and your company?
Brooke: "Winning the New Voices Power Pitch at Essence Festival was truly an honor. Standing on that stage in front of an auditorium of people I hope to serve one day as customers was just the affirmation Swella needed! Not to mention, the warm welcome the New Voices Family has given our team from the moment we became participants of the competition. It feels good, and it means everything to feel supported and have an army of people who will do whatever they can to help Swella succeed."
Felicia: "New Voices $150,000 POWER PITCH competition holds immense significance for both CPRWrap and our entire team. It is an incredible validation of our vision, dedication, and the impact we strive to make in the field of emergency response. This achievement represents a significant milestone for our company and reaffirms the value and potential of CPRWrap. Winning this esteemed competition not only provides financial support but also serves as a powerful endorsement of our product's effectiveness and innovation."
Mabel & Shaira: "We are thrilled and grateful to be among the selected winners of the New Voices $150,000 POWER PITCH. This opportunity helps cement our company's vision of being the leading Afro-Latina brand in the indie beauty category. We will use the winnings to expand our assortment and retail positioning as we continue to grow."
The Reflection 
Tell us about your experience as a panelist on the "Meet the POWER PITCH Winners" panel. 
On July 3rd, all of the POWER PITCH winners participated in a panel entitled "Meet the POWER PITCH Winners" on the SOKO MRKT Stage in the convention center for the Essence Festival of Culture. 
Brooke: "It was a great moment of knowledge-sharing and reflection. I also learned quite a lot from my fellow panelists!"
Felicia: "Being a panelist on the "Meet the POWER PITCH Winners" panel was an incredibly fulfilling and inspiring experience. It was an honor to share the stage with fellow entrepreneurs who have made significant strides in their respective industries. The panel provided a unique platform to discuss our entrepreneurial journeys, the challenges faced, and the strategies that led to our success. Engaging in insightful conversations and hearing the stories of other accomplished entrepreneurs was both enlightening and motivating."
Mabel & Shaira: "It was a great experience as we were able to engage and connect with the Essence attendees and community. Afterward, we were greeted by attendees who congratulated and thanked us for 'giving valuable and honest answers' during our Q&A."
The Vision
What impact does your business hope to have in the next five years?
Brooke: "Swella will have saved people's time and empowered a community. We will have fostered a workplace where Braiders of Swella are as happy to call Swella home as our customers – creating a safe and empowering space for all. We will also have rolled out technology to decrease service times at Swella further. We will be well on our way to equipping the entire US with convenient, accessible, and quality braid services and tools."
Felicia: "Over the next five years, CPRWrap aims to make a significant impact in the field of emergency response and CPR education. Our vision extends beyond the immediate future, as we strive to contribute to a safer and more prepared society. We aim to raise awareness about the importance of CPR and increase its adoption within communities, schools, workplaces, and households. Through the widespread adoption of CPRWrap and enhanced CPR education, our goal is to contribute to improved survival rates for victims of cardiac arrest or respiratory distress. By simplifying the CPR process and providing clear guidance, CPRWrap increases the likelihood of timely and effective interventions, potentially saving more lives. Our aspiration is to have a global impact by expanding the reach of CPRWrap beyond national borders. We plan to explore international markets and collaborate with organizations around the world to increase awareness, distribution, and adoption of CPRWrap. By doing so, we aim to contribute to improved emergency response outcomes on a global scale."
Mabel & Shaira: "LUNA MAGIC will be a household name and a multi-million dollar beauty company. We have built a beauty brand with high-quality and cutting-edge products at a price point accessible by anyone. By remaining authentic to our culture, values, giving back to our community, and continuing to offer high-quality cosmetics at great prices we are sure that we will grow into one of the biggest brands of our generation. LUNA MAGIC IS HERE TO STAY!"
The Impact
How do you see the prize money and coaching provided by New Voices $150,000 POWER PITCH helping you to achieve your goals? 
Brooke: "The coaching will help me lay a framework to accomplish my goals and prioritize throughout my entrepreneurial journey. I have already had my first meeting with our coach, and the wisdom that has already been shared is phenomenal. The coaching sessions go deep into my goals for my company and the tactical steps I must take today to get me on track. The funds granted will go directly toward expanding Swella Braid Bars."
Felicia: "The prize money represents a significant injection of capital that will fuel our growth and expansion plans. It enables us to invest in key areas such as product development, marketing initiatives, distribution channels, and enhancing our operational capabilities. The financial support the prize money provides will expedite our progress toward achieving our goals within the next five years. The coaching provided as part of the competition is invaluable in refining our business strategy. Expert guidance and mentorship from industry veterans and experienced entrepreneurs will help us optimize our operations, identify new growth opportunities, and overcome challenges. Through their insights and advice, we can align our business decisions with best practices and make informed choices that support our long-term vision. Winning the competition opens doors to a network of industry professionals, investors, and potential partners. The exposure and recognition gained through the New Voices $150,000 POWER PITCH will facilitate valuable connections and collaboration opportunities. These partnerships can unlock new distribution channels, amplify our brand reach, and create synergistic alliances that accelerate our impact."
Mabel & Shaira: "To us, we entered the pitch competition because of the valuable coaching being offered. We are students and constantly learning how we can improve ourselves and our business. Our goal for the coaching sessions is to get actionable insights into our business challenges. The money was just the icing on the cake!"
The Challenge
What is the biggest challenge facing your business right now? How will you leverage the resources provided by New Voices POWER PITCH to address it?
Brooke: "Our biggest challenge currently is access to capital. The grant from this pitch competition addresses this challenge in a big way. We'll also utilize the New Voices Family network and resources to help fundraise and attract investors."
Felicia: "Currently, one of the biggest challenges facing our business is scaling our operations and expanding our market reach. While CPRWrap has gained recognition and generated positive traction, reaching a wider audience and penetrating new markets requires significant resources and strategic planning. By leveraging the financial resources, mentorship, network, and validation provided by the New Voices POWER PITCH, we will address the scaling challenge head-on. We are confident that these resources will empower us to overcome barriers, expand our operations, and reach a broader audience. Our goal is to establish CPRWrap as the go-to solution for accessible and effective CPR interventions, making a meaningful impact on emergency response and ultimately saving more lives."
Mabel & Shaira: "We wouldn't call it a challenge, but rather a blessing! LUNA MAGIC has grown so fast during the last 18 months that we are now in the phase of strategically deciding how to grow during the next 2-4 years. We are fully aware that the biggest hurdle in retail business is not necessarily "getting in", but rather "staying in" (or maintaining). Being part of the New Voices ecosystem where we learn so many great takeaways is beyond valuable to us. We will use the coaching sessions to ask specific questions that will give us more clarity. This is not a sprint, it's a marathon!"
The Beginning
Essence Festival of Culture™ 2023 might be over, but the connections, resources, and access to capital gained in that space have just begun to flourish. The  New Voices $150,000 POWER PITCH sponsored by Entergy was truly a defining moment for these three [3] Black women-owned ventures. As members of the New Voices/ Essence Ventures Family and ecosystem, these founders and their brands have just scratched the surface of becoming the powerhouse brands they strive to be.